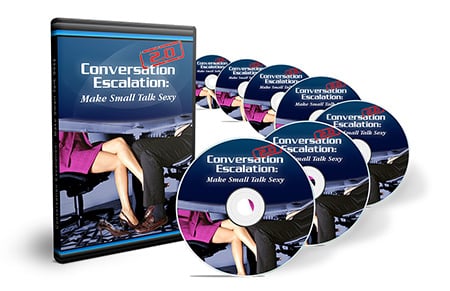 Conversation Escalation: Make Small Talk Sexy is a high-quality program that is packed with valuable advice for men who want to improve their social skills. It is created by Bobby Rio, the co-founder of TSBmag.com (dating for men).
For guys just starting out or having trouble keeping a conversation from dying, this is the perfect product that will turn them into great conversationalists.
Like the name already suggests, this course shows men how to talk to women. In fact, it goes beyond just talking. This program provides men with the essential principles to make conversations more engaging. It teaches all the necessary skills, techniques and the core mindset to create a solid connection with a woman.
The Core Content
Make Small Talk Sexy is divided into 9 parts that go into topics like:
Having fun and playful conversations
Learning to flirt and banter
Building rapport
Honing your inner and outer game
Improving your social acuity
Learning to lead a conversation
And much more.
The topics cover everything you would need to make your conversations more engaging without having to worry about running out of things to say.
The main course comes in audio format, but you also have to option to get it as an e-book if you prefer to read it. The course is quite substantial averaging around 8 hours of audio material, or 210 pages if you want to read it. It comes with a lot of useful bonus content (more on it below) that will keep you occupied even after you have finished the main course. The material itself is easy to follow and implementing it won't be very hard.
Why You Should Get It
There are many reasons why you should get Conversation Escalation: Make Small Talk Sexy but probably the best one is that it helps guys improve their conversation skills with women. It goes into great detail how to make your conversations more engaging and how to keep yourself from running out of things to say.
One running theme in this program is the importance of having intent and adding value to your conversations. Rio states that you should always go into your interactions with a certain goal in mind and offering value. This is a very healthy mindset to have because it sets you in the frame of mind that you are always the one who brings something to the conversation and not expecting something in return. Having this kind of attitude will set you apart from most guys who approach women only to get something.
Another excellent thing worth mentioning is that this program teaches you to craft your own stories and provides you with the skillset to effortlessly transition from one topic to another. This comes especially handy in situations where you need to move from a topic that leads to nowhere to something that suits you better for building rapport and flirting with the girl. If you master these skills, you will have no problems talking as long as you want to.
For a product that promises you to get good at talking to women, this program actually over-delivers in some aspects. At times it teaches you techniques that can even get a bit overwhelming when you try to use them all at once. But the good news is that you will be taken step-by-step through all the stages of a conversation, so even when you struggle with one concept, you will still have a pretty good idea what to do. This way you will always have an overview of what you should be doing next when you run into roadblocks.
After you have finished this course, you will have learned how to differentiate between a friendly conversation and flirting, so you know how to avoid landing in the ever dreaded friend zone. You will also understand everything from starting a conversation to creating rapport and know exactly when it's time to shift gears and build attraction with a girl.
The Bonuses
The bonuses include an infield audio footage where the taught material is implemented and a one-hour commentary track that provides a detailed description of the interaction. This will be really useful for guys who want to get a glimpse how exactly a successful conversation should flow.
Another bonus that comes with the main program is Conversations Steroids. It consists of 3 videos that that offer you additional material – different conversational topics you can start implementing in your own interactions and conversational "hooks" and "baits." These last two are techniques that are used to create intrigue and get women more immersed in the conversation.
The last bonus that deserves special mentioning is the alpha attitude video. This is an hour long video that will teach you all about the mindset and internal beliefs you need to display towards a woman. If you always come from the frame of mind that you are in some way beneath a woman and this reflects in your behavior towards her, then this will help you to clarify a lot of misconceptions.
There are also some e-books and cheat cards that can be beneficial for some men. All in all, the bonuses offered is over 4 hours of additional audio content.
The Weaknesses
Although very easy to understand, it needs some repeated listenings/readings to get everything out of this program. Since there is so much in this course, you will spend a lot of time internalizing the concepts and techniques.
There are some mistakes on the audio files like cutting off on some sentences or even overlapping with other audio files.
Some bonus material isn't really that special.
The Strengths
Teaches about the importance of emotional awareness when talking to women.
Offers solid advice on social dynamics.
Emphasizes bringing value and intent to your interactions.
Teaches you how to build rapport with women.
A very healthy mindset and attitude towards yourself and women.
Countless techniques to expand your skillset.
In Conclusion
Effectiveness

Ease of Use

Content Quality

Value for Money
This is probably one of the best "how to talk to women" products for beginners I have ever come across. With all that it offers, even over-delivering in some aspects, this is a worthwhile investment for every guy who wants to overcome this issue.

This course offers so much quality for a relatively small price that it is a bargain when you are serious about getting better with women. This is a product that can really make a huge difference in your dating life if need to improve your conversation skills and still have a hard time approaching and talking to women.