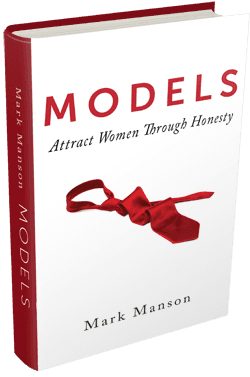 Models: Attract Women Through Honesty by Mark Manson is a book you should read if you want to start dating hotter girls and make lasting lifestyle changes. It's a comprehensive guide that teaches you how to live up to your true potential and become a better version of yourself; how to attract women by being honest and authentic.
The goal of this book is to arm you with a strong and stable emotional foundation and get in touch with your masculinity. It goes beyond just success with women by focusing on turning you into a satisfied person with a healthy mindset and the lifestyle that goes along with it.
Models does an excellent job in covering most of the relevant topics about dating and personal development and giving you a "system" that is easy to follow and implement. If you stick to this advice, there is no doubt in my mind that you will not only see improvements with women but also make remarkable progress in your personal life.
Not interested in Models? Take a look at my program: Rules of the Alpha Male
Why You Should Get It
Since I never cared for "quick fixes" or temporary solutions, in my opinion, Models is an excellent book because it focuses on long-term goals and affirmative action. It pushes you to make lasting changes by adopting an entirely new mindset. As someone who has been in the game for a long time, I know for a fact, that this is the only way to have true abundance with women and improve your lifestyle. That's also the reason why I consider it as one of the best inner game books to date.
But maybe you are wondering, why honesty? Why "attract women through honesty"? It's quite simple actually, there are no manipulative tactics or techniques involved. You don't really feel uncomfortable or guilty reading it. This book shows you how to become a better man simply by creating fundamental changes to your being, instead of teaching you to manipulate women. If you would give this book to a woman, she wouldn't really have any real issues with it because it isn't "sleazy" like some pick-up advice. You will learn how to become an authentic, attractive man, not someone who pretends to be one.
Mark didn't write it with many details in mind. It doesn't dive into exhaustive descriptions on how to behave in every given situation. Instead, you are presented with the bigger picture (this is why it goes beyond dating advice). You're not given the "best lines" or tactics for approaching, but instead get a general idea how to do it and what to say. And it works remarkably well. By the end of the book, you will have a complete picture of how to date women and improve your circumstances without getting overwhelmed by excessive details.
Don't get me wrong, though, this is not a book you are only going to read once and then be done with it. If you are a beginner, the advice here will be invaluable for you just because you will discover new things with every repeated reading. Because this is a book that focuses on your mindset, some concepts might be a bit hazy at the beginning, but once you get to the end (or read it a second time) things start to "click".
When I read it for the first time, I had already a solid understanding of the core principles of attraction. I knew exactly what traits make a man attractive and how to cultivate and display them. So, while reading this book, most of the content in it aligned perfectly with the experiences I had gained over the years. Basically, it covered almost everything I had learned in my five years in the game.
But of course, I learned something new as well. In fact, there were some missing gaps it helped me to fill. Maybe one of the biggest concepts that resonated with me the most was the idea of making yourself vulnerable. Because I had previously learned that displaying too much interest in a girl can make you seem needy, I tried to avoid it at all costs. But like so many others, I ran into the dilemma of trying to hide my intentions while at the same time still displaying them simply by approaching. This led to much confusion and I always felt that something was off – I didn't make myself vulnerable.
Vulnerability is one theme that runs throughout the whole book. The idea behind it is to show a girl who you truly are and to be totally honest about it. Now, it doesn't mean telling her about the skeletons in your closet or becoming a sensitive and whiny bitch. It means putting yourself out there and even risking with rejection by basically telling her "here I am, take it or leave it." And since you are honest in your intentions, you won't come across as needy but as a confident guy because you had the balls to stick your neck out and risk getting rejected.
Another big plus that speaks for Models is the way it treats women. While most seduction advice is centered around getting women, it sometimes completely leaves out their perspective. This can have the side-effect where some men start treating women badly and just use them to satisfy their carnal urges or try to get back at them for the times they were ignored as "nice guys".
Models, however, has a healthier approach to dating. It recognizes girls as individuals who all have vastly different personalities and preferences. That's why it advises you to approach girls with honest intentions and to create deep and lasting connections with them, even if monogamy isn't your goal.
Maybe the best reason why you should give this book a chance is the way it deals with rejection, neediness and approach anxiety. Since these three are probably the biggest obstacles for a guy who has no success with women, Mark dedicates many pages on helping to overcome them. But if you are still in doubt, maybe the best reason for you is the price. While similar dating advice products can go up to a couple of hundred dollars, this will cost you only $14.95. For a book that's almost 300 pages and has the potential to completely change your life, this is a steal.
Not interested in Models? Take a look at my program: Rules of the Alpha Male
The Weaknesses
There aren't really that many weaknesses in this book I can bring out. The only thing I disagree with is Mark's philosophy on dealing with negative feedback from women. When I'm talking to a girl but get a lot of resistance from her, I usually stick in a conversation till the bitter end because I know that sometimes I can turn it around. However, Mark suggests just to walk away if she behaves negatively towards you. He does a great job in explaining why, but this can be seen as a somewhat limiting belief.
But ultimately, it all depends on your personal preference and skill level. If you are a total beginner, sticking in an intense, stressful situation can turn ugly pretty fast and backfire on you. That's why his method helps to avoid them completely, especially if you don't know what you are doing. However, if that's not your style, you can just do what I do and disregard this advice. No matter what you decide to do on this matter, you will still get a lot out of this book.
The Strengths
A very honest and authentic way of approaching and dealing with women. This book is for you if you want to stay true to yourself and not rely on manipulation or sleazy pick-up tactics to attract women.
Models can help you set your dating and personal life back on track. It's a massive book that goes over many topics that you need to take care of (and tells you how to do it) before you can enjoy the lifestyle of an attractive man.
It's very comprehensive but at the same time easy to understand and implement into practice. It's a guide that gives you a complete action plan.
Since this book focuses on inner game, absolutely every man can learn something from it. It doesn't matter if you are single, in a relationship or even married, when you apply the learned concepts to your situation, you will see improvements.
You learn a very healthy way of seeing things. You aren't put above or below a woman and aren't therefore in a situation that makes you trying to level the playing field. It tells you straight up to approach women with the mindset of "here I am, take it or leave it."
It turns you into a man who can approach any woman at any time and be totally honest about his intentions.
You could sum up this book with these three principles: 1) Creating the lifestyle of an attractive man. 2) Overcoming your fears and anxieties around women. 3) Mastering your emotions and communication.
For a book that offers so much, it's ridiculously cheap - $14.95
Putting it All Together
Effectiveness:

Ease of Use:

Content Quality:

Value for Money:
Models: Attract Women Through Honesty is a complete system that covers everything beginners and intermediate alike will benefit from. It provides you with necessary tools and the mindset to approach any girl in any situation and create a lasting and healthy relationship with her. Models can also give you a new perspective on how to improve your personal life and motivates you to take action.

With its hands-on approach to dating and lifestyle advice and extremely low price, this is a wise investment for every guy who still struggles with women.
Not interested in Models? Take a look at my program: Rules of the Alpha Male