If you're looking for a girlfriend or want to start a relationship with a girl you like, then The Girlfriend Activation System might be for you.
Its goal is to teach you to become a desirable man and guide you step-by-step through all the stages of dating – from meeting a girl to starting a relationship with her.
The course is quite comprehensive and covers many topics. Nevertheless, it manages to present everything in an understandable and practical manner. In my opinion, if you follow the laid out system to the letter, you will see results.
So, as you can probably guess, I recommend it. Of course, if you've stumbled onto this review and have no idea who I am, this might not mean much. So, let me give you the facts so you can make up your mind on your own.
TL;DR version: The Girlfriend Activation System is for the guy who wants to improve his dating life or find a quality girlfriend. After finishing this course, you will know how to get a girlfriend and what to do to make her want to stay.
What to Expect?
The Girlfriend Activation System by Christian Hudson (founder of The Social Man) is a video course that consists of 23 modules (videos of a private two-day seminar). In total, the whole system comes to about 18 hours of content.
You also get access to The Social Man members area where you will find additional bonuses and the members-only forum (more on them later).
The course covers a broad range of subjects, but you could basically break it down into two main themes:
awakening your masculine power and
becoming boyfriend material.
These two topics are meant to complement each other and give you a "complete picture" of how to be a desirable man and find a quality girlfriend.
Christian doesn't make it a secret, though, that you will need to go through a personal transformation before you can actually attract the kind of girl who is considered long-term material.
Therefore, do not expect this to be a quick fix that solves all your problems overnight. You still need to put a fair amount of effort into it to see lasting results!
If you want a quality girlfriend, someone who stays by your side no matter what, you first have to be the man who is also worth it.
A healthy and stable relationship consists of two people who have their lives together. If you don't, it doesn't matter what girl you are dating, the relationship will eventually fall apart because of you.
Ultimately that's what this program is all about – to turn you into a high-value man, someone, who has his inner-world sorted out so he can find "the one" to settle down with.
And I have to give props to Christian here because he is doing an excellent job in teaching you exactly how to do it.
The 2 Main Themes
So, let us take a closer look inside.
At the two main themes of this course:
1. Awakening Your Masculine Power
This part is all about transforming your mindset and lifestyle; turning you into someone women find desirable. GFAS makes it abundantly clear that to attract the kind of woman you would want as your girlfriend, you will have to embrace your masculinity.
As Christian Hudson points it out himself "a woman wants to feel your masculine power, and be overwhelmed by it." For this, he covers the most important character traits of a man women respond to.
What I liked the most about this part is that you aren't just given the characteristics and left to figure things out on your own, but actually get a very detailed look at each and one of them. This provides you with a deep understanding of what makes a man attractive and helps you to become a fulfilled, well-rounded and authentic person.
Also, some of the traits are presented by guest speakers like Nick Sparks, Jason Capital, Alex Allman, and David Wygant. These are coaches who all come from different backgrounds and are authorities in their respective fields.
This adds more depth, authenticity, and variety to the entire GFAS course and gives you the opportunity to find your own unique style.
After finishing this part, you will have a pretty solid understanding of:
How to be a confident and dominant man.
How to become a challenge to women and make them chase you.
How to be competent and in control of your life.
How to have abundance with women.
What kind of relationships is best suited for you.
2. Become Boyfriend Material
Now, getting a girlfriend isn't really the hardest part. Getting a high-quality girl interested in you and making her consider you as a long-term investment, that's the real challenge.
This is why in the second part of the course focuses on teaching you all the necessary steps to become boyfriend material – a man she wants to keep.
This is also where the step-by-step part of the program comes into play. Christian dedicated more than half of the modules to this section, so you get a thorough guide that's surprisingly easy to follow and implement.
The end goal is to get you to the point where you can start a relationship with a girl of your choosing.
It's divided into three parts: impression, inspection, and intimacy. Each of them represents a stage you will go through if you're starting a relationship with a girl. You are taken step-by-step through meeting her to finally making her your girlfriend.
This part is a goldmine of valuable tips and advice for someone who has no idea how to go from meeting a girl to starting a relationship with her. If you follow this advice to the letter, you know exactly how to transition from one stage to the other and can do it effortlessly.
This is the portion of the program that can transform your dating life. After finishing the "becoming boyfriend material" part, you will know:
What to do when you meet a girl for the first time.
How to get her number and take her on a date.
What to do on the dates – how to keep them interesting.
How to sleep with her and make her fall in love with you.
How to start a relationship with her.
Why You Should Get The Girlfriend Activation System
I've been in the game for more than ten years, and this has made me very good at recognizing products that are better than most. And I can honestly say that this is one of them!
The taught material resonated with me and even managed to teach me something new.
GFAS is probably one of the few courses that includes all of the best dating advice I have come across over the years. In its eighteen hours, it covers a lot of ground, yet keeps it very simple and understandable. You can tell that a lot of effort went into this product, especially considering that this is already an updated "version 2.0" of the course.
GFAS is going to be perfect for guys who already have some experiences with approaching and attracting women and want to settle down. It will provide them with a clear direction and the knowledge to get the girlfriend they always wanted.
But even if you lack any experience, you will still manage to internalize the material. It will take you longer and probably challenge some of your current views about women and relationships, but it's definitely doable if you put effort into it.
Some other things I think need to be pointed out are the live demonstrations. Christian doesn't just introduce the concepts but actively demonstrates everything you are going to learn. This becomes especially useful for beginners who don't know how to build rapport with a woman.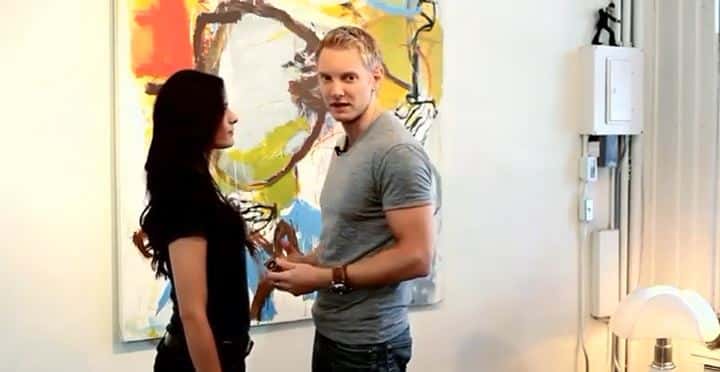 For example, you will see how to approach a girl and talk to her. You will see how to display value and demonstrate body language of an attractive male. You will even see what to avoid when you approach a girl you like.
What I liked the most about the demos is that they show how to build attraction in girls in a very subtle but powerful way. This means that by using these techniques, you won't get called out for being creepy or too forward with a girl (something many men fear).
Instead, your approaches and interactions will seem very natural, and you won't feel like you're being dishonest with her.
The Bonuses
Now let's shortly go over the bonuses.
If you purchase the GFAS, you get access to the Social Man forums. This is a private forum where only customers of The Social Man can post. The last time I visited the forum, it had over 1,700 topics with 12,000 replies. And the community was very active.
But the forum isn't the only bonus. There are bonuses that add to the immense length of the program.
These are mostly for guys who need help with improving their conversations, confidence, and general mindset. To highlight one of them: nearly an hour long video, Endless Conversations, keeps you from "running out of things to say."
Of course, there are more, and if you want to see them (one of them being free access to another high-quality course), I suggest visiting the GFAS site.
The Weaknesses
As I mentioned earlier, Girlfriend Activation System stands out from the rest as a complete course and therefore it is hard to find something that's lacking. Maybe the things I could consider as weaknesses are the length and the number of topics it covers.
With over 18 hours of content, it needs to be watched several times before getting the full benefit. Also, for are a total beginner, some concepts can be a bit harder to grasp and implement, but the forum can be quite helpful if this happens.
The Strengths
+ Doesn't just cover how to find a girlfriend but also how to improve your relationship and even how to date many women (if this is your goal).
+ Goes way past dating advice, helping you to develop a healthy mindset and lifestyle.
+ Covers a lot of topics and will be immensely beneficial to you, no matter how skilled you are with women.
+ A very healthy and mature way of looking at the male-female interaction. No dishonest techniques or tactics. No lying about who you are or what your intentions are.
+ The bonuses. Not only are there many of them, but they all also add a lot of value to the program itself.
In Summary
The Girlfriend Activation System is by far one of the best programs for getting a girlfriend. If you follow this course to the letter, there is no doubt in my mind that you will find one.
While many products focus too much on the specifics, the GFAS instead gives you the full picture and helps you to develop the lifestyle that leads to success with women and finding someone to settle down with.
What makes it different from the usual pick-up advice is that it discusses the topic of dating women in a very mature way and doesn't rely on strategies to attract women. Instead, it uses them to complement your overall game.
The GFAS is a course with profound and thoughtful advice. If you are looking for long-term results (a healthy mindset and a committed girlfriend), then this course is definitely for you!